FREQUENTLY ASKED QUESTIONS
Why are our cabins the best?
Many of our customers say they chose our cabins over others because of the higher standard of quality, design and looks. All of our cabins feature the side ranch slider and deck design which give the interior a feeling of more light and space and the exterior a modern and clean look that does not look out of place in any environment. Our cabins are definitely better quality cabins in comparison to many of the other "home built" styles that are advertised, and we are also very competitive in our pricing. Another benefit is we mount our cabins higher off the ground than other cabins. This allows for more air flow underneath which results in a much drier cabin, which helps to keep the cabin warmer in the winter, and cooler in the summer because the air can circulate underneath. All this adds up to being much better for your health. We mount and level our cabins on concrete blocks, this makes them absolutely firm and stable when walking around inside. These are just some of the benefits of why people prefer our cabins. We try hard to provide the best possible service and value available in the North Island.
Are Cabins Insulated?
Yes - all of our cabins are fully insulated in the walls, ceilings, and also under the floor. This is great for warmth in the winter, and also helps keep it cooler in the summer.
Are Units Powered?
Yes - All of our units are provided with power connectors that allow easy connection to existing 230v power outlets.
What about plumbing and toilet?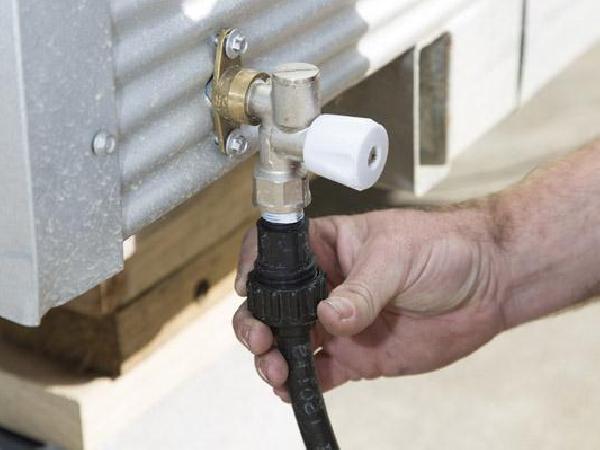 The Norfolk ensuite comes with a shower, vanity and toilet. The kichenette has a kitchen sink. It comes plumbed to one point at the back. The cabin has a hot water califont which works great when you hook it to mains pressure. If your water supply is from a header tank you may need a small inline pump to assist. The hot water califont requires a gas bottle supplied by you. A 9kg bbq gas bottle works great. Hook up is your responsibility. Water to the cabin can be connected to a normal outside garden tap. Black alkathene is preferred over garden hose as it is better for drinking water. With your alkathene hose you will need a plastic screw on connector to the cabin so it will look like this pic. Grey water from the cabin can be run to a normal outside drain. Toilet is a cassette type portapotti which is only really for night time use and needs emptying frequently.
Video here
.
Best option is a standard toilet if you are able to service it.
Do we need council consent?
Typically No - Because they are a temporary and mobile form of accommodation registered as a light vehicle with NZTA. It would be a very rare circumstance that you could require a consent for a portable cabin. eg. A commercial location may require a consent. We locate cabins throughout the North Island. If you have any concerns please contact your local council for clarification.
Is there a delivery fee and bond?
In order to cover our transport and setup costs we do charge a delivery fee depending on your location - please call us for more specific details regarding delivery costs and bond - we are very competitive with these fees.
Bond for Wade cabins $400. Delivery, Set up, Pick up at end generally totals around $850 depending on location.
Bond for Norfolk cabins $600. Delivery, Set up, Pick up at end generally totals around $950 depending on location.
Is there a minimal rental term?
Our minimum rental period is 6 months as this works out the most economical for our customers and also allows us to maintain our low weekly rental rates. The majority of our customers will take an initial rental term contract of between 6 to 12 month and then continue to rent after that period is up. There is no limit to how long you keep renting your cabin after your rental period is over, we have some happy customers that are into their 4th year of cabin rental.
What are the Cabin dimensions?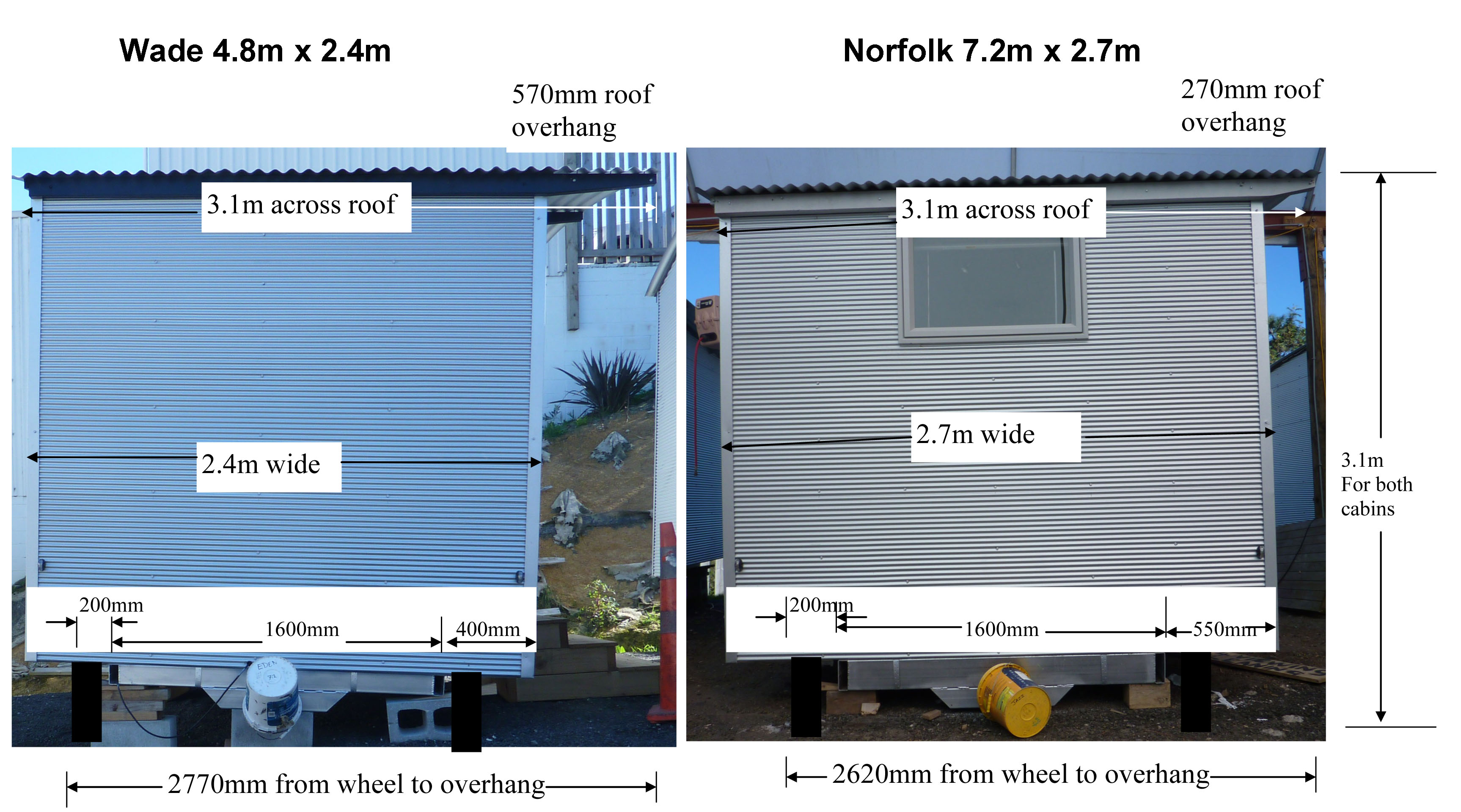 What do I need to supply?
You supply...
Microwave / Cooking facility. There is a microwave shelf. For other cooking most people use small 2 burner electric hobs.
Gas bottle for Hot Water Califont. 9kg bbq gas bottle works great.
Plumbing from cabin to services. Read more in our FAQ... What about Plumbing
FAQ's FOR CABIN USERS
My Hot Water is not hot?
1.Check your gas bottle is full.
2.Check the intake and outflow taps to the califont are on. They should be vertical. ie. Inline with the pipe.
3. Switch off the power to the cabin for 10 seconds. Then switch back on to reset califont.
4.Check the intake filter is not blocked. On top of the white tap where you connected the water there is a slot for a screwdriver. Remover the cap and there is a filter inside. Clean and replace.
5. Check you have good water pressure through your hot water tap compared to cold water tap. The hot water califont works great when we hook it to mains pressure. If your water supply is low presure or from a header tank you may need a small inline pump to assist. If you need a one of these search Trademe for "Hot Water Booster Pump". Make sure you get one that has a built in pressure switch. Low water pressure may also be caused by a blocked filter.
Contact us
regarding backflushing unit.
6. Sometimes they need to cycle through up to 10 times if it is a new califont or been sitting for a while. Inside turn on one of your hot water taps on full. Go outside and turn the tap off at your water intake. Wait for the unit to finish the cycle. Turn the tap back on and see if it starts. If not turn tap off and wait for unit to finish the cycle. Turn the tap back on and see if it starts. Repeat until it starts. Repeat up to 10 repetitions.
7. Here is a look at the
Operating Manual if you have the OptiFlow,
or the
Operating Manual if you have the HydroPower.
Can I move my cabin?
Sorry No. Only our approved contractors are able to move cabins. Please
contact us
if you wish to move it.
What do I do at the end of the lease?
We require one months notice when you are finished with the cabin. Our contractor will remove the deck and steps. Your job is to clean to the same level you received the cabin. Here is a helpful
Cleaning Guide
to get it ready for removal.
---