WellingtonCabins
Temporary accomodation at its finest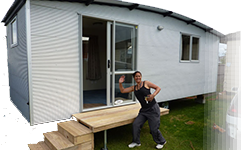 Here are a few things you can expect from WellingtonCabin excellence
Warm in winter, cool in summer with full batts insulation to residential standards.

Treated timber floor and sub-floor that can't rust and will not rot. (Ideal for coastal New Zealand).

Shadow Clad exterior cladding - natural good looks that last.

Curved, stylish, corrugated Zincalume roofing.

Low Maintenance aluminium windows and door.

Water connects to hose tap

Chemical Toilet or Standard toilet (Norfolk cabins)

Full size shower and sink (Norfolk cabins)

Continuous gas heated hot water (Norfolk cabins)

Smoke alarm for safety

Carpet and/or vinyl flooring

Curtains

Deck with cover and entrance stairs

All cabins wired to housing standard.

Power connects to standard power point via 10 metre caravan lead

Fuse board with safety fuses

Inside and outside lighting Power outlets
-----------
WANTED
-------------
"Semi-retired builder for part-time work moving towable cabins.
Requirements
: 4 wheel drive vehicle Basic carpentry skills Friendly face
Job Description
: Approx 1 job per fortnight packing down cabin when clients are finished with it. Check it has been cleaned. Cleaning if not up to scratch. Check for any maintenance issues. Door locks, cabinets etc. Deliver to next client and set up. Cabins are set up level on concrete blocks. A small prefab deck and steps are attached to the cabin."
Training provided. Excellent remuneration.
Email us
or Phone Ian on 0272639649
---------------------------------